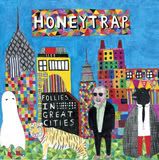 Released 9th June 2008
From the very first
Tough Love
live show back in the summer of '05 when they were known as Mawda and listened to the Lion King on repeat for months at a time, the prospect of a full album from those same four slightly off-kilter oddballs, now under the
Honeytrap
moniker, has always been rather exciting. Recorded in both an old coal vault and a bathroom, Follies In Great Cities delivers on that early promise and with great aplomb. Featuring ten tracks, including re-recorded versions of both "Mussolini's Son" and "Death Before the Silver Screen", it's a wildly ambitious tour de force. The violins and horns leave me a little breathless I have to say.
Artwork comes from the wonderfully talented
Rose Blake
and we can excitedly confirm that T-Shirts based on the design are in the pipeline. Thank you so much Rose for all your hard work. You all really should investigate her other work.
To celebrate the release we've organised a launch party at Taylor John's House on the 6th June, featuring not only Honeytrap but the new band from ex-
Dead! Dead! Dead!
members and some close friends from Norway. Keep your diary free or join the
Facebook event
.